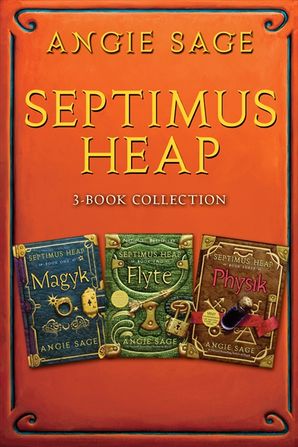 Read an excerpt
Septimus Heap 3-Book Collection
By Angie Sage
Description
Fantasy adventure at its best! This collection contains the first three books in Angie Sage's internationally bestselling Septimus Heap series: Magyk, Flyte, and Physik. Readers will love the enchanting and humorous adventures of a wizard apprentice and his quest to become an ExtraOrdinary Wizard.
New York Times Bestselling Series
"A fresh take on the world of magic."—Child magazine
"Readers will be indubitably hooked—worrying, laughing, and gasping over the nonstop adventures of this engaging troupe." —VOYA (Starred Review)
The series follows Septimus Heap, who, as a seventh son of a seventh son, has magical powers. After he becomes the apprentice of the ExtraOrdinary Wizard Marcia Overstrand, he starts his studies for seven years and a day to become an Ordinary Wizard (or maybe an ExtraOrdinary?). His adventures take place in a fictional world full of secrets and mysteries, a world where rats are messengers and can speak, a world where spells are common and where the dark forces are trying to penetrate.
Product Details
Publisher: Katherine Tegen Books
Imprint: Katherine Tegen Books
Format: eBook
On Sale: 06/03/2014
ISBN: 9780062371706
ISBN10: 0062371703
Pages: 2160
Trimsize: x in
Subcategory:
JUVENILE FICTION / Fantasy & Magic
JUVENILE FICTION / Family / General
JUVENILE FICTION / Humorous Stories
More Great Septimus Heap BOOKS